Matrix Integration's Proactive Support Agreement
IT crises are always a disruption for a company, but they can become a major problem when a company's current IT setup is insufficient for recovery or prevention, leading to huge losses that could have easily been avoided.
Partnering with Matrix Integration is the best way to prevent, as we draw up a Proactive Support Agreement with each of our clients.
What's Included
What we do is identify the IT strengths and weaknesses that are unique to your organization's infrastructure, then get to work as quickly as possible in improving operations and fixing any problems.
We work closely with our clients, to identify their pain points as well as figure out how to best tailor their IT services toward ensuring growth.
Think of this as like a "Health Screening", where we make sure your network is as healthy, or secure, as possible.
Our checklist includes:
Backups
Firewalls
Endpoint Protection
Network Infrastructure
Data Center
Email Health
Software as a Service (SaaS)
Wireless
General Health
Consulting with you to figure out what your organization needs
Our Results
Below are some specific examples of what we have found through our Proactive Support Agreement with clients:
Discovering 17 million IP addresses at one company and reducing these down to fewer than 1,000
Learning that half the hard drives in a client's server farm had already failed and their support had ended six years ago
Uncovering an email system with only 6 months before end of life
Finding out that backups had stopped running weeks ago unbeknownst to the organization
Exposing security certificates with expiration dates just around the corner
Identifying problems such as these is only the beginning of our services. When you partner with us, we will help design a maintenance plan that will help prevent these and other issues, allowing you to focus on growing your business, worry-free.
We also plan for the worst, drawing up recovery plans in the case of cyberattacks, equipment failures, and even natural disasters. Further, we enhance the IT setting with strategic recovery planning, redundant data and network solutions, and forward-looking lifecycle management.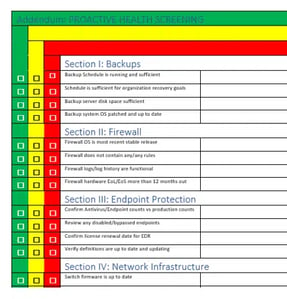 Success Stories
See how we have partnered with our clients and what we have accomplished together.
Enhance Your IT Infrastructure with Matrix Integration
Have any questions about our Proactive Support Agreement, or partnering with Matrix Integration in general? Feel free to contact us!
It was a pleasure to work with Matrix. They were very knowledgeable about all aspects of the installation, easy to communicate with and able to resolve any questions or issues."
Jeff Payne
NTN Driveshaft Anderson
We are
your technology
partner
.
Matrix Integration's expertise and access to cutting-edge technology positions us to provide the right technology solutions for the critical challenges you face.