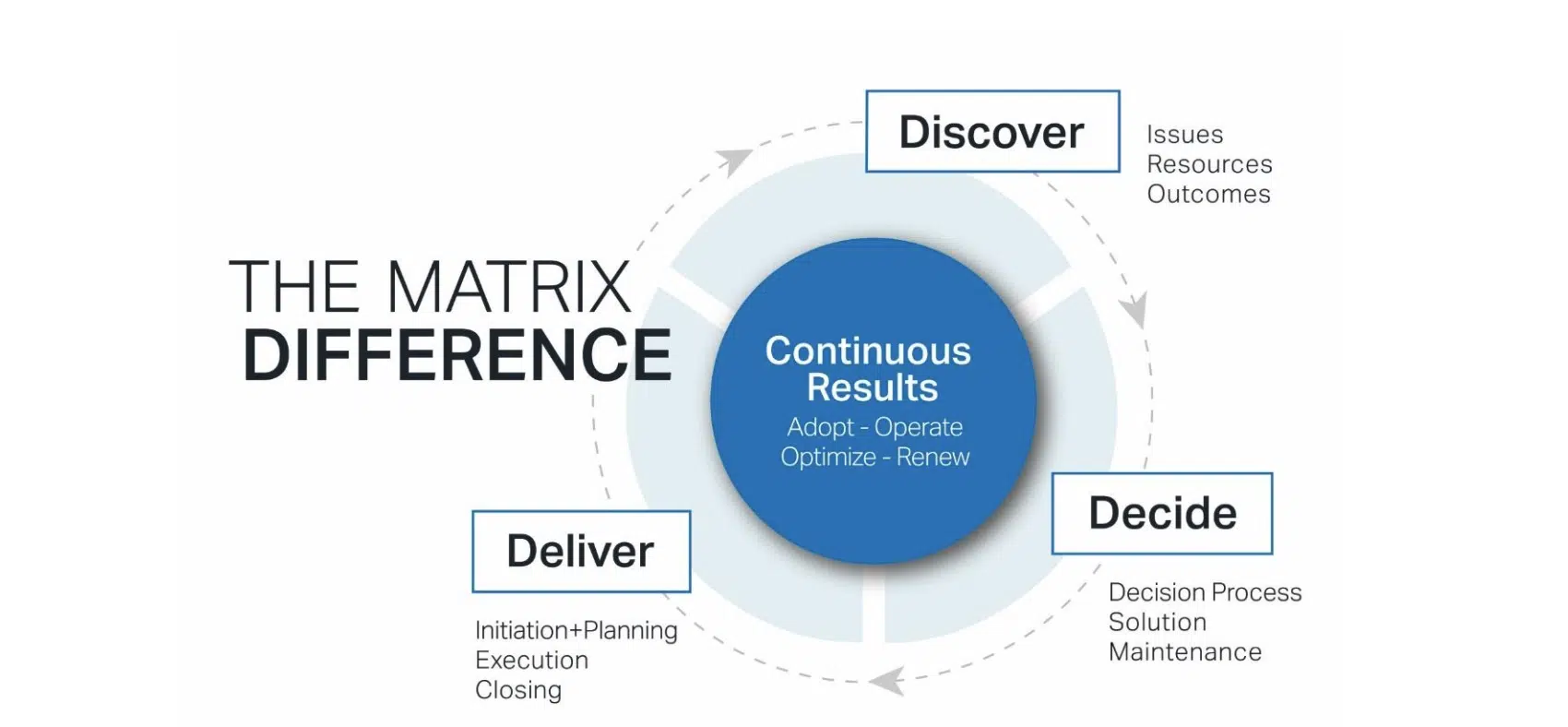 The Matrix Difference
What makes Matrix different is our proven approach that we call "The Matrix Difference".
We always start with the end in mind, and that end is to earn a client for life. And we know the only way to do that is to help clients achieve Continuous Results. That end-in-mind drives us to always be looking at what success looks like not just now or in 6 months but three years down the road. The only way to achieve those continuous results is to have a consistent way to engage that starts with understanding.
Discover:
In the "Discover" phase we spend time upfront to understand the key issues we need to solve, then help you prioritize those issues based on their relative impact on your organization's short- and long-term desired outcomes. We explore the various resources (time, people, money) to solve the top issues. Then we understand clearly your decision process so we can help enable a decision in your best interest.
Decide

:

In the "Decide" phase we understand or help you define your decision-making process then engage all of the appropriate stakeholders within your organization to fully understand their unique desired outcomes. We then design a solution that achieves the priority outcomes we uncovered in the Discover and Decide phase. Then, we go one step further to help you decide, now, what ongoing maintenance will be required after implementation.
Deliver:
In the "Deliver" phase we follow a proven sequence of initiating the project with all key stakeholders. Those stakeholders then plan the specifics tasks of the project and who is responsible for each. The project then moves into execution and control where tasks are being completed and project outcomes are being controlled. We then do final trimming and closeout to debrief the engagement and transfer any key learnings to future projects or ongoing operations teams.
Continuous Results:
As stated before, where we really unlock value for clients is in the "Continuous Results" phase. This is where we help clients get the most return out of their IT investment…through adoption, use and efficient operation. In this phase we help clients continually optimize, upgrade and renew their environments to keep pace with business goals. With each incremental change we start the cycle again at "Discover".
We are
your technology
partner
.
Matrix Integration's expertise and access to cutting-edge technology positions us to provide the right technology solutions for the critical challenges you face.