Virtual-Learning Lessons for the Private Sector
.
By: Reggie Gresham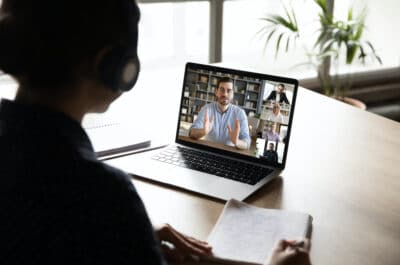 The shift to remote learning and working isn't going away anytime soon. That's why, when we created a remote-learning setup for a school district this summer, we created a "Classroom of the Future" – one that would have a long-term impact on teaching and learning, and would also produce major benefits for the commercial sector.
Background: Quick Setup, Long-Term Solution
When Mooresville Schools, a public K-12 district southwest of Indianapolis, reached out to Matrix Integration to design an e-learning program, we jumped right in.
We've had a relationship with Cisco for many years, and we worked together to design a unified collaboration solution that included new cameras, endpoints, additional bandwidth, and easy-to-use software tools to facilitate e-learning.
Because of our strong partnership, we were able to implement the whole solution in just a few weeks.
Even better, though, is that we designed the solution to be powerful and flexible enough to work for the long term. The district has gotten excellent feedback – including praise that students and teachers are able to create meaningful connections via the technology to enhance learning as well as create opportunities for social interaction.
Parents also see great value in the technology. They don't need to spend time with their students troubleshooting, and they see the value of the courses themselves. They've kept their students in the district, knowing that whether or not they're in school physically, their children are getting a rich learning experience.
Shifting to the Private Sector
The solution with Mooresville has far-reaching and creative opportunities for the private sector.
Businesses have many of the same issues, including the need to humanize employee relations and customer service at a time when so many people need to keep their distance. At the same time, remote work and offering remote services offers many commercial sectors , such as healthcare, financial services and manufacturing, opportunities for growth and savings for years to come.
The same technology we use in the classroom can be used for a drive-through help desk at a financial institution, or for companies that want to create a meeting solution that is more engaging and has more options than a typical videoconference, such as real-time language translation.
Mooresville estimates the district has saved about $4 million by having the resources to effectively teach students remotely. Its high retention rates have generated Federal funding that might have been lost if students had left the district.
At Matrix Integration, we know how to help build your personal "Business of the Future" IT infrastructure to keep you moving forward. A healthy remote communications solution could lead to significant cost savings as well as serve as the backbone for strong revenue-generating tools.
If you're ready to get started, or if you want to talk through how this communications shift could benefit your business, get in touch. We'll talk about solutions that can elevate your business now, as well as position you for the future.
###
In the News: Matrix Integration and Mooresville Schools were featured on Inside Indiana Business on TV and on the radio. Learn more about how, together with Cisco, they created a "Classroom of the Future," and how the lessons can be applied to the commercial sector.